C-Frame Press Mastery
LCM C-Frame Press
Tonnage: 100 ton


Bolster Area: 750 x 550 mm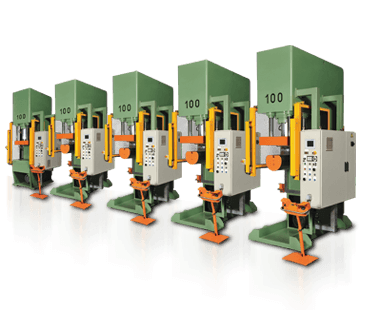 Feature
Very Rigid Structure
High Speed Press Configuration Available
Optional Touch Screen Terminal
Very Versatile and Multi-functional
Suitable for Metal Sheet Pressing
Lien Chieh offers a wide selection of customizable high speed C-Frame presses that can be used for a wide number of processes. These processes include assembling, riveting, molding, bending, straightening, pressing and more. With an outstanding price to performance ratio, these presses are very versatile, rigid and have long running times. We can also offer optional touch screen terminals for data storage, easy machine calibration and program configuration.
C-Frame presses are very easy to install, use and maintain, as well as being very efficient at the high speed processing of metal sheets and other materials. We can also custom build high speed C-Frame presses designed for large operating spaces that are suitable for both automatic operations and multi-press assembly lines. Whether you are looking for a highly specialized machine, or one that will perform at high speeds, we always deliver.
With a wide range of available accessories such as die cushions and automatic die change systems, these press solutions can quickly boost the productivity of any workshop. Furthermore, all our C-Frame hydraulic press machines and high speed press machines are designed with a highly rigid structure and uneven loading resistance for long lasting precision. By always understanding our customers' requirements and designing machines in cooperation with them, LCM is able to design high precision presses that perform at the highest level, day in day out.
Reference
Application
C-Frame presses are very versatile and can be used in the production of a wide range of components, such as metal screws, tins, motor core components, electronic parts and more. Contact us for more information about optional accessories and you can see how versatile these hydraulic presses can be.


Specification
Our C-Frame hydraulic presses are typically designed with a maximum capacity between 30 and 150tons but customizable sizes are available on request. See below for an overview of our product specifications.
Model
Capacity
Bolster Area
Descending Speed
Ascending Speed
ton
mm
mm/sec
mm/sec
LPRC-150
150
1000 x 800
250
250
LPRC-100
100
750 x 550
300
250
LPRC-75
75
750 x 650
300
300
LPRC-50
50
700 x 600
350
300
LPRC-30
30
600 x 500
400
400
---
Articles of C-Frame Hydraulic Press