PCB/CCL/Laminating Presses
LCM PCB/CCL/Laminating Press
Tonnage: 720 ton, 8 Openings


Platen Area: 1220 x 1370 mm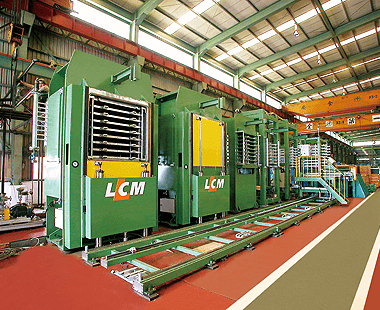 Feature
High Efficiency Motors, Valves, and Pumps
Customizable Platen Size and Number of Openings
Wide Range of Hot and Cold Laminating Presses Available
Optional Automatic Die Loading Systems
Suitable for PCB and CCL Applications
Strategically located in one of the most impressive PCB (Printed Circuit Board) and CCL (Copper Clad Laminate) manufacturing economies, Taiwan, Lien Chieh has become one of the premier providers of PCB and CCL related press machinery. By always utilizing the latest technologies we have been able to develop a wide range of industry-leading and customizable PCB and CCL laminating press machines. Within this range of highly specialized presses, we are also able to manufacture laminating presses that can attach laminate polymers onto surfaces for a variety of applications.
PCB presses can be designed to meet a wide range of printed circuit board applications, with the most popular model being the PCB laminating presses. These press machines are very efficient, can be designed with a range of different platen areas and capacities. With precision controls that efficiently regulate the machine's pressures and temperature settings, our press machines can efficiently perform multi-layer laminating for large-scale production runs.
With the possibility of installing both hot and cold CCL and PCB laminating presses with automatic loading systems, we are able to develop highly efficient and productivity-enhancing solutions for our customers. With up to 40 openings per press and capacities in excess of 3,000tons, we produce a comprehensive range of PCB and CCL laminating presses.
Reference
Our range of specialized PCB and CCL laminating presses include CCL laminating vacuum hot presses, hot and cold presses and expert PCB laminating presses. All of these hydraulic presses can be equipped with automatic loading and unloading systems which massively increases productivity, cuts down on expensive labor costs and increases workfloor safety.



Tonnage: 3500 ton, 20 Openings


Platen Area: 1370 x 2300 mm
Application
PCB and CCL laminating presses are most commonly used in the processing of printed circuit boards, copper clad laminate and the lamination of a variety of surfaces. These presses can be highly customized to perform a range of functions for many different materials.


Specification
Lien Chieh can manufacture PCB and CCL laminating presses in sizes ranging between 200 and 3,000tons or more. By being able to customize the number of openings, platen area and stroke size, are we able to construct a machine that exactly meets your precision lamination requirements.
No. of Opening
Capacity
Stroke
Platen Area
Distance Between Platen
Ascending Speed
Descending Speed
ton
mm
mm
mm
mm/min
mm/min
1~15
200~2000
1500~21000
Please Specify
100~140
1000
1000
20
200~2000
2000~2800
100~140
1200
1200
25
2000 or ›
2500~3500
100~140
1200
1200
30
2000 or ›
3000~4200
100~140
1200
1200
35
2000 or ›
3500~4900
100~140
1200
1200
40
3000 or ›
4000~5600
100~140
1400
1400
---
Articles of PCB and CCL Laminating Hot Press