PCB/CCL/Laminating Presses
LCM PCB/CCL/Laminating Press
Tonnage: 720 ton, 8 Openings


Platen Area: 1220 x 1370 mm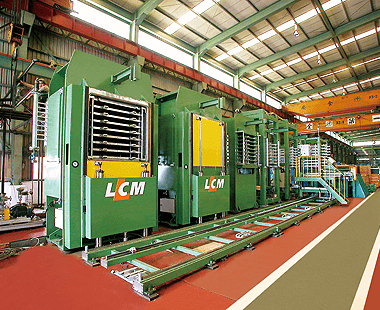 PCB and CCL Press Introduction
With fast-paced Press developments and incorporating the latest technologies, Lien Chieh Machinery (LCM) is widely known for their ability to manufacture customizable PCB and CCL Laminating Hot Presses. By always implementing new and productivity boosting innovations, all our PCB Laminating Press Machines and CCL Laminating Hot Press Machines are leading the industry.
By importing the majority of our materials inventory used in the production of Hydraulic and Mechanical Presses, LCM ensures the highest quality structures and Press performance. Furthermore we assemble all of our PCB Laminating Presses and CCL Laminating Hot Presses in-house, which guarantees excellent quality and efficiency due to strict materials testing, leading manufacturing procedures, as well as scrupulous quality control.
With our very versatile production experience we can custom build Press solutions to suit all our customers' wishes, such as our CCL Laminating Vacuum Hot and Cold Presses. We always use the highest quality seamless tubing and forgings, as well as the most accurate and reliable pistons to make sure all of our Hydraulic and Mechanical Press Machines operate flawlessly. Lastly all LCM's Presses are equipped with easy to understand and easy to operate control systems for impressive control and increased safety.
PCB and CCL Laminating Hot Press Features
All of our PCB and CCL Laminating Hot Presses are available in a range of capacities, can have up to 40 openings, and can be equipped with automatic loading and unloading systems. With different stroke sizes and available platen areas, our Hydraulic Hot Presses can be used for various industrial applications. Other main features include:
High Efficiency Motors, Valves, and Pumps
Customizable Platen Size and Number of Openings
Wide Range of Hot and Cold Laminating Presses Available
Optional Automatic Die Loading Systems
Other Products from Lien Chieh
---
Articles of PCB and CCL Laminating Hot Press