SMC/GMT/BMC Presses
LCM SMC/GMT/BMC Press
Tonnage: 1000 ton


Bolster Area: 2500 x 1250 mm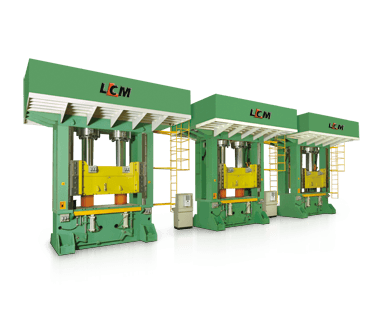 Feature
European Cylinder Seals and Packings
Bosch Rexroth Pumps
Very Precise Pressing Action
Optional Intelligent Leveling System
High Repeatable Accuracy
The most common choice for high-volume and high strength composite parts molding are SMC, GMT and BMC press machines. Using these types of presses, matched metal dies are mounted within a molding press and using extremely high pressures, complex components can be molded into place. These presses are extremely well suited for the shaping of complex shapes which include ribs, bosses and inserts.
SMC and related presses are most often used in the automotive, aviation and construction industries for the molding of precision parts. With SMC, GMT and BMC presses, the most frequently used materials include fiberglass, carbon fiber, reinforced thermoplastics and other composite materials. All our hydraulic SMC and related molding presses can be operated both automatically and semi-automatically for added versatility and come with digitally-controlled temperature controllers for optimum performance.
As we are able to fully customize our outstanding range of SMC, GMT and BMC press machines, our customers can be sure to receive high quality presses tailor-made to meet their precision molding requirements. Moreover with SMC and related press machines, color compounds can be easily used, in-mold coatings are easy to apply and trimming and finishing costs are very small. When looking for a custom made and highly efficient SMC, GMT or BMC press, look no further than Lien Chieh.
Reference
Application
These types of presses are used in the fast and efficient molding of complex automotive parts, aviation components and other specialized parts. By being able to mold complex shapes in one go using very strong and lightweight composite components, these types of presses ideal are for high-end car bodywork.

Specification
Lien Chieh typically designs SMC presses with maximum capacities between 250 and 3,000tons, but larger sizes over 3,500tons are available on request. Also the stripping capacities and the size of the bolster area can be customized to our clients' wishes. See below for a detailed look at the specifications.
Model
Capacity
Bolster Area
Stripping Capacity
Descending Speed
Ascending Speed
ton
mm
ton
mm/sec
mm/sec
LHS-250
250
1500 x 1200
40
450
350
LHS-500
500
2000 x 1500
80
450
350
LHS-600
600
2000 x 1500
100
450
350
LHS-1500
1500
3000 x 2500
250
450
350
LHS-2000
2000
3050 x 2750
300
450
350
LHS-2500
2500
3500 x 2500
400
450
350
LHS-3000
3000
4000 x 3500
500
450
350
LHS-
3500 or ›
Please Specify
---
Articles of SMC/GMT/BMC Presses