Straightening Presses
LCM Straightening Press
Tonnage: 3000 ton


Bolster Area: 4600 x 1800 mm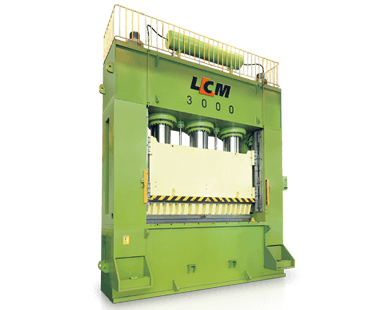 Feature
Large Capacity Presses Available
Very Rigid Structure
Customizable Bolster Area
High Efficiency Motors, Valves, and Pumps
Many Built-in Safety Features
Straightening presses offer fast, accurate and repeatable straightening of semi-finished products that are later used for subsequent processing. These machines are capable of quickly straightening a wide range of different workpieces such as shafts, tubes, bars and small castings. Larger sized straightening presses offer a high degree of versatility as they can also process large plates, weldments and large castings.
With a press capacity up to 3000tons, Lien Chieh's straightening presses offer heavy-duty straightening that is very energy-efficient and offers excellent results. These machines offer high value to customers as they reduce the need for additional machining and can be combined with integrated handling systems for increased productivity.
To foster efficient small production runs and decrease machine idle time, automatic die changing systems can be used. With precise straightening capabilities and the hot straightening of plates, LCM's straightening presses can be used for a number of applications. Please contact us for further details on customizable options and available auxiliary equipment.
Reference
Application
Straightening presses are used for the straightening of a wide range of materials, including rain gutters, construction materials, shafts and other objects. Using different dies it is also possible to process tubes, bars and small castings.



Specification
Below is a list of the specifications for our straightening presses. Capacities usually range between 800 and 3,000tons however fully customizable presses are available on request. Please contact us more for details.
Model
Capacity
Bolster Area
Descending Speed
Ascending Speed
ton
mm
mm/sec
mm/sec
LD-800
800
4000 x 800
250
200
LD-1200
1200
4200 x 1200
250
200
LD-3000
3000
4600 x 1800
250
135