Hot Forming Presses
LCM Hot Forming Press
Tonnage: 200 ton


Platen Area: 900 x 800 mm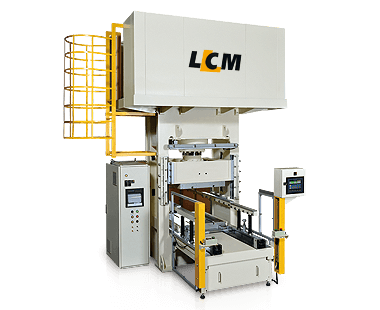 Feature
Precision Machined Frame
Very Low Noise and Vibration Levels
Hydraulic Systems Equipped with Fault Monitoring Devices
PLC Control System with Digital Display
High Operating Temperatures
Lien Chieh has many years of experience designing and manufacturing high quality hydraulic presses, and our range of hot forming presses are no exception. These presses feature a high precision machined frame built to handle very high capacities with very little deformation.
Our hot forming presses can be used with both composites and metals, and are well suited for the production of a wide range of products such as brake pads, rubber tires and other molded parts. As hot forming presses can mold the same parts with less tonnage, they are often considered to be more efficient and are better at forming complicated parts.
With a very intuitive control system, Lien Chieh's hot forming presses offer operators complete control, ease of use and accurate performance. Hot forming presses can also be used to correct faults or inaccuracies of previously cold formed parts. With our expertise in designing turnkey press machines, we can advise our customers on which auxiliary equipment to use with our presses, to boost performance, speed and efficiency.
LCM also offers two different types of hot forming press, the tire-tread hot press and hydraulic hot press. The latter uses a specially designed eight-point gib system that enhances accuracy and stability. All our tire-tread hot forming presses and hydraulic hot forming presses can be designed in a range of sizes and can be designed with a range of accessories such as die loaders, horizontal rams, and double openings. Furthermore all our hydraulic forming presses use the very latest and most efficient pumps, valves, and cylinders.
Reference
Since hot forming presses use high temperatures to help form the workpiece, these presses require less capacity to form the same products. Typical sizes for these presses are between 200-500tons however custom built presses with larger capacities are available on request.



Tonnage: 500 ton


Platen Area: 900 x 600 mm
Application
Typical applications of this type of press include: automotive parts, molded parts, for net shape forming and inaccuracy correction. They can also be used for the forming of complex titanium alloy components and other composite metals.

Specification
Below are the specifications for our typical hot forming presses, they are available in two main types, tire-tread hot forming and hydraulic hot forming. Please contact us for a full list of customizable options and capacities for this type of press.
Model
Capacity
Bolster Area
Descending Speed
Ascending Speed
ton
mm
mm/sec
mm/sec
LH-200
200
900 x 800
100
85
LH-500
500
900 x 700
100
115
---
Articles of Hydraulic Hot Forming Press, Metal Forming Press