Plywood Presses
LCM Plywood Press
Tonnage: 500 ton, 35 Openings


Bolster Area: 1370 x 2590 mm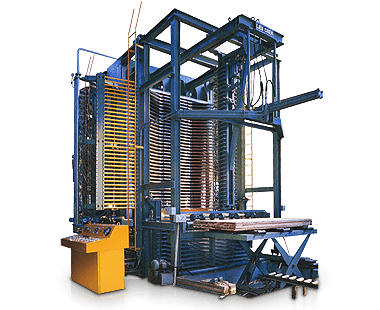 Feature
Very Accurate and Reliable Pressing Action
Versatile Performance
Many Built-in Safety Features
Optional Automatic Conveyor System
Process All Panel Sizes and Thicknesses
Lien Chieh is capable of manufacturing a wide range of plywood presses and complete plywood press production lines that are capable of handling a wide range of panel sizes and thicknesses. We offer both hot and cold plywood presses that can be used for the processing of plywood sheets and other specialized plywood applications.
All of our plywood presses are known for their accuracy, ease-of-use and the ability to meet the most demanding production demands. With many special features and high-speed loading and unloading capabilities, plywood presses designed by Lien Chieh are really helping customers boost performance, productivity and product quality.
Plywood presses are primarily used for the pressing of plywood sheets which are commonly used in construction and other related industries. With panel thickness control and many different customizable options, our plywood presses have already been installed all over the world.
Reference
LCM offers hot plywood presses with maximum capacities between 500 and 800tons and cold plywood presses with maximum capacities between 500 and 750tons. We can custom build plywood press machines with up to 50 openings and platen sizes of either 5' x 5' or 4' x 8'.

600 ton 35 openings Hot Press with conveyor loading system installed in Russia.



Tonnage: 500 ton


Platen Area: 1800 x 1700 mm
Application
Plywood presses are most commonly used for the high speed pressing and processing of plywood panels which are primarily used in the construction industry. These panels or sheets are very strong compared to their weight and therefore offer excellent support and strength for a wide range of applications.



HD Video
Specification
LCM is able to manufacture both hot and cold plywood presses with a wide range of openings, capacities and other specifications. Capacities are usually designed between 500 and 800tons however this can be adjusted according to customer requirements. Furthermore we can also customize stroke size, pressures and the distance between platens so be sure to contact us for more details.
Hot Press
No. of Opening
Capacity
Unit Pressure
Stroke
Platen Area
ton
kg/cm2
mm
mm
1~15
500~800
19~23
750~18000
5' x 5' or 4' x 8'
20
500~800
19~23
1000~2400
5' x 5' or 4' x 8'
25
500~800
19~23
1250~3000
5' x 5' or 4' x 8'
30
500~800
19~23
1500~3600
5' x 5' or 4' x 8'
35
500~800
19~23
1750~4200
5' x 5' or 4' x 8'
40
500~800
19~23
2000~4800
5' x 5' or 4' x 8'
45
500~800
19~23
2250~5400
5' x 5' or 4' x 8'
50
500~800
19~23
2500~6000
5' x 5' or 4' x 8'
Cold Press
Model
Capacity
Pressure
Pressure
Stroke
LC-500
500
Please Specify
LC-750
750
Hot Press
No. of Opening
Distance Between Platen
Ascending Speed
Descending Speed
mm
mm/min
mm/min
1~15
50~120
10000
10000
20
50~120
12000
12000
25
50~120
12000
12000
30
50~120
12000
12000
35
50~120
12000
12000
40
50~120
14000
14000
45
50~120
16000
16000
50
50~120
18000
18000
Cold Press
Model
Stroke
Bolster Area
Bolster Area
LC-500
Please Specify
LC-750
---
Articles of Hydraulic Plywood Press