Plywood Presses
LCM Plywood Press
Tonnage: 500 ton, 35 Openings


Bolster Area: 1370 x 2590 mm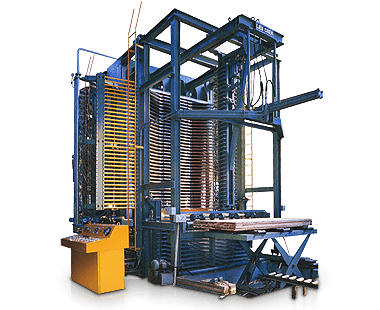 Plywood Press Introduction
Lien Chieh Machinery (LCM) has long understood the usefulness and versatility of Plywood Presses for a wide range of industrial applications. They are typically used to fix together multiple layers of plywood, increasing the strength and durability of the wood. Hydraulic Plywood Press Machines are also well suited to compress a large number of pieces of wood together, and can incorporate automatic conveyor systems for quick and easy loading and unloading.
LCM can produce both Hot and Cold Plywood Press machines for specialized pressing operations. With the continual development of new manufacturing processes and procedures, LCM aims to manufacture the most efficient and productive Hydraulic Presses on the market. We always strive to work closely with our customers, so that we can custom design Presses that completely meet our customers' requirements and always offer the exceptional performance that we are known for.
As a leading Hydraulic Press and Press Maker, LCM is continually upgrading the designs and features of our machines. Our Hydraulic Plywood Presses are no exception as we now offer a range of different designs and accessories, to give all our customers a distinct competitive advantage.
Hydraulic Plywood Press Features
LCM offers Hot Plywood Presses with maximum capacities between 500 and 800 tons and Cold Plywood Presses with maximum capacities between 500 and 750 tons. We can custom build Plywood Press Machines with up to 50 openings and platen sizes of either 5' x 5' or 4' x 8'. Other notable features include:
Very Accurate and Reliable Pressing Action
Versatile Performance
Many Built-in Safety Features
Optional Automatic Conveyor System
Other Products from LCM
---
Articles of Hydraulic Plywood Press