Die Tryout Presses
LCM Die Tryout Press
Tonnage: 2500 ton


Bolster Area: 4600 x 2500 mm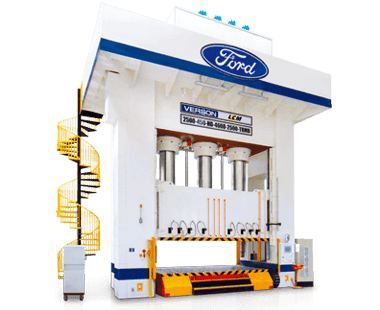 Feature
Optical and Mechanical Locking Devices
Very accurate Micro-Inching System
Inching Positioning Display accurate to 0.01mm
Optional 180° Slide Tilt System
Fully Programmable Speeds and Forces
Hydraulic die tryout presses are best suited for precision die testing before full-scale production begins. With the full capacity of the press available, operators can precisely control the closing of the die, for accurate die tryouts. With fully programmable speeds and forces, Lien Chieh's customizable die tryout presses have been well received by large manufacturers across the world.
With large bed sizes available, our die tryout presses can be used for very large dies and molds, and with the optional 180° slide tilt system, very accessible and safe operations are guaranteed. Die tryout presses can expose weaknesses or inaccuracies in dies that can be identified before full-scale pressing operations begin.
Furthermore with the high quality and precision of all our die tryout presses, customers can be sure of high performance and long-lasting repeatable accuracy. Another key feature of our die tryout presses is that they use optical and mechanical locking devices for increased safety and security.
Lien Chieh's die tryout presses incorporate many of the latest technologies and perform to the highest precision by ensuring full-rated capacity across the entire stroke. Regarding the size, capacity and performance specifications, all of our hydraulic die tryout presses can be adapted to precisely meet a wide range of die testing and tryout requirements.
Reference
Lien Chieh die tryout presses are available in sizes ranging from 400 to 4000+ ton capacity for a wide range of applications. With very sensitive die spotting control, variable drawing speed, and flexible die height, our presses are both very versatile and efficient.



Tonnage: 2500 ton


Bolster Area: 4600 x 2500 mm
Application
Lien Chieh's die tryout presses are primarily used for the testing and trying out of dies to ensure manufacturing precision and smooth parts manufacturing. With fully programmable forces they can also be used for limited small batch production runs, as well as for a wide range of industries.





HD Video
Specification
We are able to manufacture die tryout presses in a wide range of sizes and capacities. Current models on offer include the following, however we are also able to custom manufacture both small to very large presses on request.
Model
Capacity
Bolster Area
Descending Speed
Ascending Speed
Die Cushion Capacity
ton
mm
mm/sec
mm/sec
ton
LD-400
400
2500 x 1500
400
300
100
LD-500
500
3000 x 2000
400
300
200
LD-1200
1200
4600 x 2500
400
300
400
LD-1500
1500
4600 x 2500
400
300
500
LD-2000
2000
5000 x 2500
400
300
600
LD-3500
3500
5500 x 3000
400
300
1200
LD-
4000 or ›
Please Specify
---
Articles of Hydraulic Die Tryout Press