Die Tryout Presses
LCM Die Tryout Press
Tonnage: 2500 ton


Bolster Area: 4600 x 2500 mm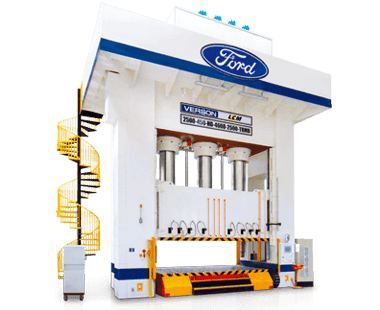 Die Tryout Press Introduction
With over 65 years of expertise in the Press manufacturing industry, Lien Chieh Machinery (LCM) continues to expand their product selection and now offer a wide range of Die Tryout Presses. All of their Hydraulic Die Tryout Press Machines cater for a wide variety of operations and with the added functionality of some Die Spotting Presses they are very versatile as well.
All LCM Die Tryout Presses are easy to use, easily accessible, and allow for ergonomically correct work to be performed during testing of the die or mold. This is because of the optional slide tilt system with moving bolster that eliminates the need for annoying overhead work. Also since the slide is fitted with optical safety curtains and locking devices it is very safe and easy to operate. Furthermore all LCM's Hydraulic Press Machines are meticulously designed and built, in-line with customer requirements using the latest quality control and testing equipment. This allows for their machines to accurately simulate a wide range of drawing systems found on Hydraulic and Mechanical Presses.
Die Tryout Presses are the key to fast die set-up time and are essential to ensure that correct die manufacturing results in accurate and smooth parts manufacturing. With a very knowledgeable design team, LCM is well known for their accurate and efficient Hydraulic Die Tryout Press and Tryout Press machinery and equipment.
Hydraulic Die Tryout Press Features
Our latest Die Tryout Presses are available in sizes ranging from 400 to 4000+ ton capacity for a wide range of applications. With very sensitive die spotting control, variable drawing speed, and flexible die height, these Hydraulic Press machines are both very versatile and efficient. Other features include:
Optical and Mechanical Locking Devices
Very accurate Micro-Inching System
Inching Positioning Display accurate to 0.01mm
Optional 180° Slide Tilt System
Other Products from LCM
---
Articles of Hydraulic Die Tryout Press