Shipyard Presses
LCM Shipyard Press
Tonnage: 3000 ton


Bolster Area: 5600 x 2500 mm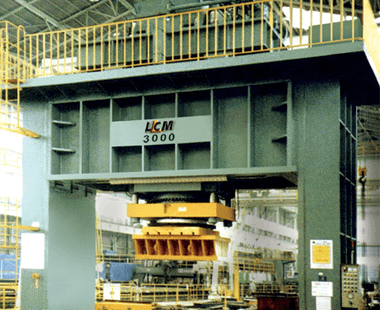 Traveling Ram Hydraulic Shipyard Press
Feature
High Performance Structural Design
High Efficiency Motors, Valves, and Pumps
Many Built-in Safety Features
Fully Customizable Design
Large Capacity Presses Available
Lien Chieh is capable of custom designing a range of shipyard presses suitable for a range of different functions. With the heavy-duty demands that coincide with today's shipbuilding industry, all Lien Chieh's hydraulic shipyard presses can meet the toughest demands. By using high quality Bosch Rexroth motors, imported European cylinder seals and Teco Westinghouse high efficiency motors, precision heavy-duty pressing operations can be ensured.
As Lien Chieh is a specialist in cold forming and straightening technologies, we can design shipyard presses that offer efficient and innovative solutions for the shaping of hulls for all types of vessels. Not only are these presses very reliable and safe to use, but they can also be combined with a large range of auxiliary equipment, to allow for production chain automation and increased productivity.
High performance automated shipyard presses greatly increase shipbuilding capabilities, and with Lien Chieh's customizable hydraulic presses, customers can be sure to receive high performance machinery. By understanding the precise requirements of shipbuilding and recent technological developments, Lien Chieh has been able to develop press machines that completely meet the demands of our customers. Not only are these shipyard presses suited for the efficient and precise shaping of hulls, but also a wide range of other shipbuilding applications.
Reference
Application
Shipyard presses are often used in the forming and shaping of hulls and other large plates or panels used in the production of yachts, ships and other marine vessels. Contact Lien Chieh for more information about auxiliary equipment and customizable options for boosting the productivity of your shipbuilding operations.


Specification
Lien Chieh shipyard presses are available in a range of sizes but are commonly sold with a 1,500ton or 3,000ton capacity. Bolster areas can be designed according to customer requests, so be sure to contact us with your shipyard press requirements and we will gladly assist in the design of your custom built hydraulic press.
Model
Capacity
Bolster Area
Descending Speed
Ascending Speed
ton
mm
mm/sec
mm/sec
LRM-3000
3000
6200 x 2500
100
70
LRM-1500
1500
8000 x 3000
92
92
---
Articles of Shipyard Presses, Shipbuilding Presses