Calcium Silicate Board Presses
LCM Calcium Silicate Board Press
Tonnage: 5000 ton


Bolster Area: 5080 x 2180 mm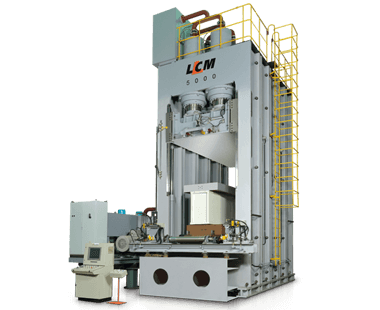 Feature
Very Rigid Structure
High Speed Production
Suitable for a Variety of Materials
Many Customization Options
Long Service Life
Calcium silicate board presses are used for the high speed production of calcium silicate boards, which are becoming increasingly popular for applications in a wide range of industries. Calcium silicate boards are primarily made from cement, sand and wood fibers and are very chemically stable, fire-resistant and have a good comprehensive strength.
With Lien Chieh's calcium silicate board presses, fast and efficient production is guaranteed and our presses are often designed with capacities up to 5,000tons. It is also possible to couple automatic loading and unloading systems with these presses, to increase production efficiency as well as enhance workshop safety. When considering a new press production line be sure to consult us, to see how we can make your vision a reality. We continually focus on offering customers the latest technological innovations with outstanding customer service.
There are numerous advantages to using calcium silicate boards which include their stable structure, the fact they are 100% asbestos free and that they will not support mold growth. Furthermore using Lien Chieh's presses, you can be certain to produce high quality silicate cement boards that meet the strictest international standards. Furthermore, calcium silicate boards can also be further processed in order to increase versatility and functionality, by bring coated with a wide range of materials for example.
Application
Calcium silicate boards are mainly used in the construction industry as insulation materials, ceiling panels, partition boards and other high strength paneling. Post-processing also allows for a wide range of coatings to be added increasing functionality of the boards.


Specification
Our calcium silicate board presses are available in a wide range of sizes, with capacities as high as 5,000tons. These presses can be further customized on request so please contact us directly for more information.
Model
Capacity
Bolster Area
Descending Speed
Ascending Speed
ton
mm
mm/sec
mm/sec
LCC-5000
5000
5080 x 2180
100
100
LCC-3000
5000
2700 x 1550
6
6
LCC-3000
5000
2700 x 1350
6
6
---
Articles of Calcium Silicate Board Press