Why LCM Could Provide Better Quality Forging Press?
LCM Forging Press
Tonnage: 5000 ton


Bolster Area: 3800 x 2400 mm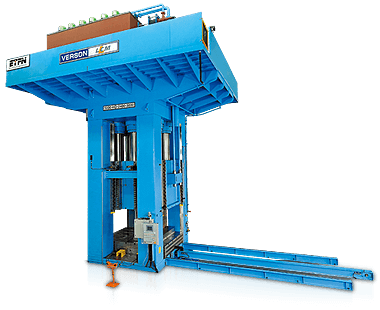 Feature
Very Accurate and Reliable Pressing Action
High Efficiency Motors, Valves, and Pumps
Versatile Performance
Many Built-in Safety Features
Both Cold and Hot Forging Presses Available
Lien Chieh offers an extensive range of customizable hot and cold forging presses that use localized compressive forces to shape metal into very rigid objects. With many years of manufacturing experience, we also offer highly specialized forging presses and whole plant solutions, such as fully automated shell forging production lines and forging presses coupled with automated robotics systems.
All press models are available as both hot and cold forging systems, and can be built with capacities as large as 15,000tons. Hot forging presses are well suited for the production of hand tools, automotive and bicycle components, titanium forged parts and other small metal parts. Cold forging presses are better suited for precise tolerance forging, used in the production of precision automotive components, engine parts, aerospace components as well as steel, aluminum, copper and titanium parts.
Our presses can be equipped with automatic transfer systems for fast and automated mass production. All our presses have slide safety locks, light curtains and customizable and multifunction HMI screens. We always use high quality Bosch Rexroth pumps and European seals and packings for precision operations and a long service-life. All in all our forging presses have been installed across the world from the USA to Japan, and with a strong focus on technological development, we strive to continually offer our customers long-lasting and high performance machinery.
Reference
LCM can offer their hot press and cold press machines in a variety of sizes ranging from a 200ton capacity to an enormous 15,000ton capacity. With our expert design experience we can also custom build hydraulic warm forging presses and even fully automated shell forging production lines. See below for a look at the different types of forging presses we are able to produce.



Tonnage: 2000 ton


Bolster Area: 2000 x 2000 mm



Tonnage: 8000 ton


Bolster Area: 2500 x 1900 mm



Tonnage: 12000 ton


Bolster Area: 2700 x 2500 mm

Hydraulic Warm Forging Press


Tonnage: 400 ton


Bolster Area: 805 x 750 mm

Fully Automated Shell Forging Production Line


Tonnage: 125 ~ 3,000 ton


Bolster Area: 810 x 950 mm / 810 x 1150 mm / 915 x 1095 mm/ 1375 x 1675 mm / 1525 x 1880 mm

7500 ton bolster size 60" x 60" Hydraulic Cold / Warm Forging Press installed in the United States.

1600 ton bolster size 1400 x 1400 mm Hydraulic Cold Forging Press installed in India.
Application
Both hot and cold forging presses are commonly used for the production of precision automotive components, bicycle parts, hand tools and many other small precision components. With a wide range of sizes available, our forging presses can be custom-built to suit the needs of smaller workshops and very large factories alike.




HD Video
Specification
Below is an overview of the range of forging presses Lien Chieh can produce. Besides hot and cold forging presses, a wide range of special purpose hydraulic forging presses are also available. Please contact us for more details on our ability to custom build both stand-alone forging presses and whole plant automated solutions.
Model
Capacity
Bolster Area
Descending Speed
Ascending Speed
ton
mm
mm/sec
mm/sec
LF-200
200
800 x 750
350
300
LF-500
500
1200 x 1000
350
300
LF-800
800
1200 x 1000
350
300
LF-1000
1000
1200 x 1000
350
300
LF-1200
1200
1500 x 1200
350
300
LF-2000
2000
1600 x 1200
350
300
LF-3000
3000
2000 x 1500
350
300
LF-8000
8000
2500 x 1900
350
300
LF-12000
12000
2700 x 2500
350
300
LF-15000
15000
3000 x 2750
350
300
---
Articles of Hot and Cold Forging Press, Cold and Warm Forging Press