Hemming Press, Hot Stamping Presses
LCM Hemming Press, Hot Stamping Press
Tonnage: 800 ton


Bolster Area: 3000 x 2000 mm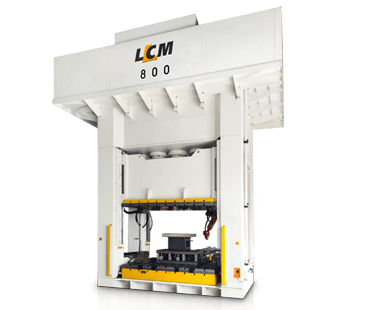 Feature
Very Rigid Structure
Fatigue-resistant Design
Exceptional Dimensional Accuracy
Many Built-in Safety Features
Multiple Optional Accessories Available
With rapid advances in technology Lien Chieh has recently developed a large selection of hemming press and hot stamping presses that meet the changing needs of the stamping industry. Featuring a rapid deceleration rate, excellent off-center load handling capabilities and a wide range of applicable auxiliaries, our hydraulic hot stamping presses are very high performance and can be used for a variety of different applications.
In order to meet a wide range of functional demands, Lien Chieh offers fully automated hemming press and hot stamping press solutions. With the ability to customize these presses in accordance with current production line configurations, we are specialists in designing and manufacturing turnkey solutions. As dangerously high temperatures are often involved with hot stamping operations, it is advised to utilize automated die changing and tooling equipment for safe and efficient automated operations.
By implementing a wide range of quality control procedures and fault-detection systems in the control systems of our presses, operator safety and reliable operations are ensured. Two other important aspects of hot stamping is accurate guiding and rapid closing speeds. With a centralized automatic lubrication system, continuous lubrication of guiding components is ensured, resulting in accurate stamping even under heavy loads. Also with rapid descending and ascending speeds high quality and very precise stamping can occur time and time again.
With the ability to connect our hot stamping presses with robotic automation systems and quick die change systems, this greatly increases workfloor safety and productivity. Popular auxiliary equipment that is used includes die carts, rolling bolsters and T-type die tables. Whatever die transfer option design you choose to use, be sure to consult Lien Chieh when designing your hot stamping press so that your machinery can be custom designed to fit your automated production requirements.
Reference
Application
Hot stamping presses and hemming presses are typically used in the production of casings, tooling components, automotive parts such as bumpers and B-pillars and other related products. As they are very versatile and offer high performance operations, hot stamping presses are becoming more popular for large manufacturers.



Specification
LCM can offer custom designed hot stamping presses in a range of sizes with different bolster sizes and ascending speeds. The specifications of our standard model is listed below, however you are welcome to contact us for inquiries about our customization capabilities and the addition of various auxiliary equipment.
Model
Capacity
Bolster Area
Descending Speed
Ascending Speed
ton
mm
mm/sec
mm/sec
LD-800
800
3000 x 2000
700
500