SMC/GMT/BMC Presses
LCM SMC/GMT/BMC Press
Tonnage: 1000 ton


Bolster Area: 2500 x 1250 mm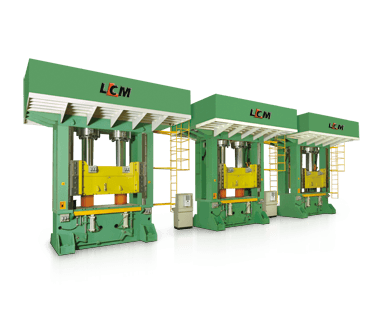 SMC Press Introduction
Lien Chieh Machinery (LCM) has developed a wide assortment of different Press Machines for many different applications. This includes High Speed Presses, C-Frame Hydraulic Presses and also specialized SMC Presses. SMC Press Machines are widely used in the aviation, automobile, construction and energy industries for the precision manufacturing of parts and components.
We can custom manufacture all our Press Machines for specific applications while meeting all the technical requirements of our customers. Besides SMC Press Machines, we also offer specialized GMT, BMC and Fibre Cement Board Presses. With over 65 years of manufacturing experience, LCM is able to manufacture Press Machines with exceptional precision, expert fault monitoring systems as well as very low sound levels below 83dB.
Furthermore all of our SMC Presses can be equipped with multiple openings, safety light curtains and intelligent leveling systems to ensure precision manufacturing at all times. As we have been manufacturing Hydraulic SMC Presses and other Hydraulic Presses for many years we truly understand what our customers' value most, and this shows in the designs of our machines.
SMC Press Features
Lien Chieh typically designs SMC Presses with maximum capacities between 250 and 3000 tons, but larger sizes are available on request. Also the stripping capacities and the size of the bolster area can be customized to our clients' wishes. Moreover SMC Presses usually have a descending speed of 450mm/sec and an ascending speed of 350mm/sec. Other features are:
European Cylinder Seals and Packings
Bosch Rexroth Pumps
Very Accurate and Precise Pressing Action
Optional Intelligent Leveling System
Other Products from LCM
---
Articles of SMC/GMT/BMC Presses