Hydroforming Presses
LCM Hydroforming Press
Tonnage: 2000 ton


Bolster Area: 2500 x 1200 mm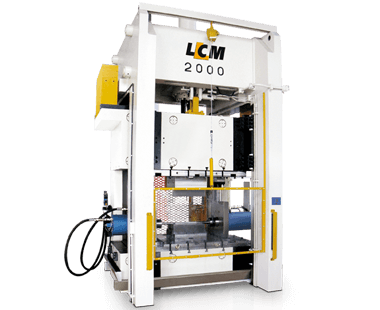 Hydroforming Press Introduction
Continually striving to improve Hydraulic Press quality, Lien Chieh Machinery (LCM) is particularly well known for their innovative and energy-efficient Hydroforming Press Machines. With a very ingenious design, and a wide range of available functions and capacities, LCM's Hydroforming Presses can produce formed parts with an exceptional strength to weight ratio. One popular type is our Hydroforming Press that is specialized in the production of bicycle parts and uses a maximum load capacity of 1,100 tons.
With a fast growing global client base, our Hydroforming machines are being used for a wider range of applications because hydroformed structures are known to be much lighter and stronger than traditional stamped or welded products. With our expert manufacturing techniques, strict quality control, and well organized management systems, we can deliver high quality Metal Forming Presses, on time and with the best customer service.
Due to the fact that we can design and develop very specialized Hydroforming Presses that can be tailor made for specific applications, our Presses are always very productive, accurate, and safe. Furthermore from an operator's perspective, all LCM's Metal Forming Presses have a simple to operate control system and are quick and easy to set up.
Hydroforming Press Features
All LCM's Hydroforming Press Machines are available in a range of sizes between 1,100 and 5,500 tons. We can also custom design the bolster area to suit the intended application. Other features include:
High Performance Structural Design
Able to Perform a Range of Hydroforming Functions
Optional Automatic Die Changing System
Many Built-in Safety Features
Other Products from LCM
---
Articles of Hydroforming Presses