Die Spotting Presses
LCM Die Spotting Press
Tonnage: 500 ton


Bolster Area: 5000 x 2500 mm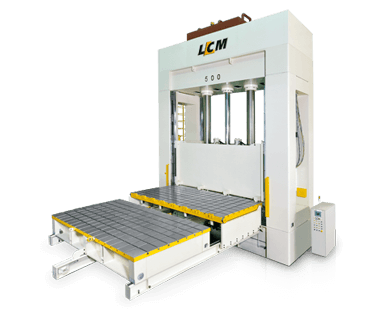 Die Spotting Press Introduction
Lien Chieh Machinery (LCM) has spent many years developing very efficient, accurate and easy to use Die Spotting Presses. With their solid structure and time saving design these Hydraulic Die Spotting Presses are excellent for die and mold inspection and finishing. This is done in order to ensure design accuracy and precision of the die or mold.
With this type of Press, simple operation, accurate die spotting, and safe operations are all guaranteed. Our Die Spotting Press Machines can also be equipped with a 180° slide tilt system, that allows for easy mold or die removal. This further increases safety and productivity, while also reducing operational costs. Furthermore LCM's Die Spotting Presses are designed with energy efficiency and a long service life in mind, so that you can be sure that all our Hydraulic Presses will always give you an excellent return on your investment.
Lien Chieh Machinery has been offering high quality Hydraulic Presses for a number of years and continues to develop very innovative and energy efficient systems. Our design engineers can help you to meticulously design and later manufacture, custom Hydraulic Press Machines to meet all of your requirements.
Hydraulic Die Spotting Press Features
LCM's latest Hydraulic Die Spotting Presses are available in varying sizes and capacities between 50 and 500 tons. Larger custom Press sizes are available on request. The main features of this machine include:
Automatic and Manual Locking Devices
Very accurate Micro-Inching System
Inching Positioning Display accurate to 0.01mm
Optional 180° Slide Tilt System
Other Products from LCM
---
Articles of Die Spotting Press