Die Spotting Presses
LCM Die Spotting Press
Tonnage: 500 ton


Bolster Area: 5000 x 2500 mm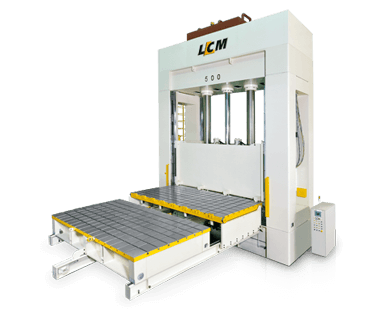 Our Range of Hydraulic Press: Hydraulic Die Spotting Press, Die Spotting Presses
Die Spotting Press is one of precision mold processing equipment that mainly uses for the final stage of molding, which use of differential pressure to pressurize mold, match between upper and lower die mold. It requires high precision Hydraulic Die Spotting Press to further increase production efficiency, safety and extend the life span for the mold. In recent years, it's widely used in industrial manufacturing, such as Auto Industrial.
Lien Chieh Machinery (LCM) has been over thirty years experience in the hydraulic press machinery industry; we offer customized machinery to meet different customer demands and budgets. Our hydraulic die spotting press withstands weight between 200Ton and 300Ton, size range of 1800mm (4600mm) x1500mm (2500mm). It can be furnished with 180-degree slide tilt systems, which upgrade the productivity and safety grade, reduce loss time, cost and improve operational efficiency.
We are not only offering die spotting press also offer Hot Forging Press, Forming Press, Metal Forming Press, High Speed Press, and Mechanical Press, if you have any need about press machinery, please contact with our sales to get more information.
Applications & Features
Application: Die inspection and die mold finishing.
Features:
1. Press is fitted with automatic and manual (post) locking devices for operator safety.
2. Micro-inching system with accuracy between 0.05mm - 1.00mm.
3. Inching positioning display accuracy to 0.01mm.
---
Articles of Die Spotting Press